Brexit eCommerce
How Brexit has impacted the UK eCommerce industry
The EU is a major market for UK eCommerce business growth. In 2020, UK exports to the EU were worth £251 billion (42% of all UK exports).
Exporting to Europe after Brexit poses new challenges, since every single shipment from the UK to the EU has to be treated as an international export/import shipment – requiring additional time and money spent on customs declarations & documentation, import inspections, Brexit shipping surcharges, EU taxes and duties to be paid prior to delivery, and managing unhappy customers.
Exports from the UK to EU plunged 68% the month after Brexit regulations went into effect. Many UK eCommerce businesses continue to avoid selling products into the EU due to the added time, costs, and headaches posed by Brexit.
Exporting to Europe

 after Brexit

Fortunately, there's an easy solution for UK eCommerce brands to get around Brexit challenges and continue to sell and ship products to customers in the EU. By partnering with an EU-based fulfillment centre, such as Autofulfil in Ireland, many of the barriers of selling into Europe after Brexit are eliminated.
Import your inventory (in bulk) to our fulfillment centre in Ireland (one-time customs clearance only per inventory shipment).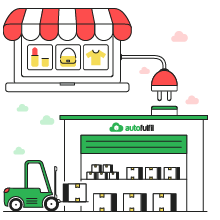 We'll integrate your eCommerce platform with our warehouse management system free of charge.
Continue to sell your products online to your European customers & collect VAT at the point of sale.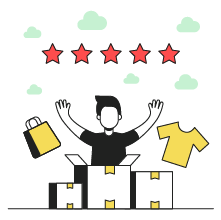 When you receive an EU customer order, we pick, pack, and ship that order the same day to your European customers (no customs from Ireland to EU on customer orders = quick & easy delivery).
Why fulfill UK eCommerce orders
from Ireland?
When it comes to fulfilling and shipping online orders from the UK to the EU after Brexit, Ireland is the perfect gateway to Europe for UK-based eCommerce brands.
Ireland's status as an EU member state and our close proximity to the UK means the low inventory freight importing costs into the EU.
Our longstanding relationships, shared native English language, and shared cultural characteristics make Irish and UK companies a natural fit for successful business partnerships.
Benefits of
fulfilling UK to EU orders with Autofulfil
Faster and lower cost delivery

to EU customers
Less time spent

dealing with customs clearance
Autofulfil's
European eCommerce fulfillment services
Autofulfil provides full-service fulfillment solutions, so you can chill while we fulfill. Our fulfillment services include:
Other benefits of
EU order fulfillment with Autofulfil
We're automated
From your store, to our warehouse floor, to your customer's door
We're accurate
You can always count on our 99.9% same-day accuracy rate
We're experienced
Built by eCommerce retailers for eCommerce retailers in 2014
We're capable
100,000 sq ft fulfillment centre with 500,000+ orders fulfilled per year
We're affordable
Great value with competitive rates on fulfillment & shipping
Want to learn more about
expanding your brand in Europe?
Request a quote and our team will contact you to answer your questions and provide a custom proposal for your unique business needs. Get started in as little as one week!