Fulfillment Ireland
Ireland's Top eCommerce fulfillment centre – Autofulfil
As the top eCommerce fulfillment centre in Ireland, Autofulfil is uniquely positioned to offer fast, accurate, and sustainable order fulfillment services.
With our 100,000 sq ft Irish fulfillment centre, fulfillment expertise, and extensive relationships with courier companies worldwide, we can provide affordable and reliable delivery from your eCommerce store to your customers' doors in Ireland and further afield to international customers.
Autofulfil was created by Irish eCommerce companies for Irish eCommerce companies. We know what it takes to successfully scale an eCommerce brand in Ireland and how to help our clients succeed here as well.
Access the
lucrative Irish eCommerce market
Irish customers are more likely to buy international products online.
Due to many Irish businesses being hesitant to sell online, 84% of Irish online customers have shopped cross-border – almost double the average rate seen across Europe. That said, Irish customers do want to buy from Irish brands when those brands are available online – an opportunity for international and Irish eCommerce brands alike.
The Irish eCommerce market is booming.
The average Irish online shopper spends €2,708 a year, the third-highest spending per person in Europe. Estimated Irish online spending in 2020 was €10 Billion.
There's still a lot of room for eCommerce growth in Ireland.
There is still an estimated 41% of the Irish population yet to make their first online purchase.
Hassle-free order fulfillment process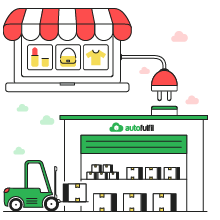 We integrate your online store with our warehousing management system for a seamless experience.
We stock your inventory in our fulfillment centre with inventory levels fully tracked and updated in our system.
You sell your products online to your customers in Ireland, Europe, or further afield.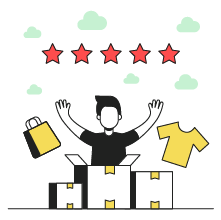 We pick, pack and ship your customer orders same-day.
Our Ireland fulfillment

services include:
Our
Irish Fulfillment Centre
Strategically located just outside of Galway, in Oranmore, Ireland, our European fulfillment centre boasts 100,000 sq ft of warehouse space with a high-efficiency layout and organisational systems across three levels. Our expert fulfillment teams pick and pack millions of items per year with fast domestic and international shipping.
Our warehouse team consists of 40+ regular year-round fulfillment specialists. During peak times, such as Black Friday and Christmas, the team scales up to hundreds of warehousing staff to flexibly meet the seasonal sales demands of our clients.
It's not just businesses in Ireland that benefit from our order processing, stock management, and fulfillment services. Ireland provides the perfect gateway to Europe for UK businesses selling to European customers. Storing inventory in Ireland allows you to minimise the complexities of Brexit eCommerce and ship orders quickly across the continent.
Why outsource to us?
You might be wondering whether third-party logistics services are right for your business. Here's why outsourcing makes sense for brands throughout Europe:
Fast order fulfillment
Order processing and fulfilling orders are much quicker when you have a highly skilled team picking items and packing boxes. That's reflected in our 99.9% same-day order fulfillment rate.
Cost savings
There's even the added benefit of lower shipping costs. Thanks to our established partnerships and collective buying power, we can secure deals for affordable shipping – and pass the savings onto you.
Accurate pick and pack
We deliver fast fulfillment without cutting corners. Our accuracy rate of 99.9% means that customers always get the right items.
Frees up your time
Outsourcing stock management and fulfillment means you can concentrate on marketing, sales, and growing your business.
Ready to grow

your eCommerce business in Ireland?

Request a fulfillment quote today and our team will contact you to answer any questions and provide you with a custom proposal tailored to your unique business needs.