Autofulfil is the
gateway to
eCommerce fulfillment

in Europe
With our European fulfillment centre based in Ireland, Autofulfil is uniquely positioned to help online stores expand sales across Europe to reach the 311.4 million eCommerce shoppers in the European market.
With a team of friendly, English-speaking eCommerce fulfillment experts, we offer fast (99.8% same-day fulfillment), accurate (99.8% order accuracy), sustainable (recyclable packaging & carbon-neutral shipping) and flexible (hands-on & bespoke) order fulfillment services you can count on to seamlessly deliver orders from your online store to your customers' doors.
Expand your eCommerce brand
to Europe with Autofulfill
Autofulfil's Irish fulfillment centre location and friendly, English-speaking team make us uniquely positioned to serve as the launching point for brands looking to sell online in the European Union (EU).
Simply send us your stock and we'll store it as inventory. By integrating your online store with our warehouse management system, sales from your online shoppers will come straight through to us. We'll then pick, pack, and ship your orders to your customers in locations across Europe – or further afield.
But we do more than just deliver. In addition to our European fulfillment services, we can also introduce you to partners from our logistics and fulfillment network to help you with important activities like customs brokerage, VAT management, freight forwarding, and more to grow your brand internationally.
Our

European fulfillment
services

include:
Our European

Fulfillment Centre

Located just outside of Galway, Ireland, our 100,000 sq ft e-fulfillment centre boasts a high-efficiency layout and organisational systems across three levels. This enables us to fulfill millions of items per year, with international shipping to consumers throughout Europe and across the world.

Our warehouse team consists of 40+ regular year-round fulfillment specialists. During peak times, such as Black Friday and Christmas, the team scales up to hundreds of warehouse staff, to flexibly take care of the seasonal demand of our clients.
Thanks to our location in Ireland, we can offer next-day delivery throughout Ireland and 2-5 day shipping throughout most of Europe with no need for shipments to go through customs in other countries within the EU. Since Brexit, shipments from our fulfillment centre to the UK can take longer to arrive, though.
But that also highlights a huge benefit of our European fulfillment centre for UK eCommerce businesses. By sending larger product shipments to us and storing inventory with us in the EU, you'll have stock ready and waiting for European customers. That reduces major customs hassles (compared to sending individual shipments for each customer from the UK to the EU) and allows you to offer faster delivery times in dozens of EU countries.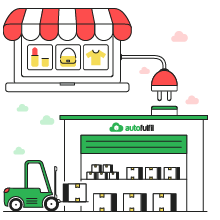 We integrate your eCommerce store with our warehouse management system.
We stock your inventory for your business in our fulfillment centre.
You make sales online to your customers in Ireland, Europe, or across the world.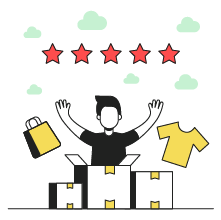 We pick, pack and ship your online orders same-day, eliminating all the hassles of e-fulfillment for your company.
Improve customer experience, reduce shipping costs, & so much more
When you outsource to an experienced, highly capable fulfillment provider, you get far more than a parcel service for your company:
Keep customers happy
Our fast fulfillment service makes delivery quicker for the customer, who can track their shipping status with reputable shipping companies.
Win back your time
eCommerce businesses can leave fulfillment to us and focus on what they're good at. Develop new products, improve your online presence, or enter a new market.
Target more locations
From France and Spain to Germany and Italy, there's nothing stopping you selling to new markets throughout the European continent.
Reduce shipping costs
As an online retailer, you'll pay the standard retail price with couriers. Thanks to the collective buying power of our fulfillment network, you'll enjoy lower shipping rates.
Eco-friendly
Not many warehouses come close to the eco-friendly approach at Autofulfil. From packaging and power supplies to shipping services and carbon offsetting, we've covered all the bases for green order fulfillment.
Ready to
grow your eCommerce brand in Europe?
Request a quote today and our team will contact you to answer any questions and provide you with a custom proposal tailored to your unique business needs.