Powerful fulfillment analytics at your fingertips
Order fulfillment is critical for eCommerce businesses. So it's no surprise you want to check on inventory, monitor performance, track progress, and improve your offering to customers. Data analysis helps you do exactly that. 
The problem for management is finding the time. With other business processes to manage, organising fulfillment data and keeping track of metrics can seem impossible to maintain. Not with Autofulfil.
Our innovative order management software gives you a range of fulfillment analytics at your fingertips. From real-time data to comprehensive reports, you'll get a holistic view with invaluable insights to help you make better decisions for your company and your customers.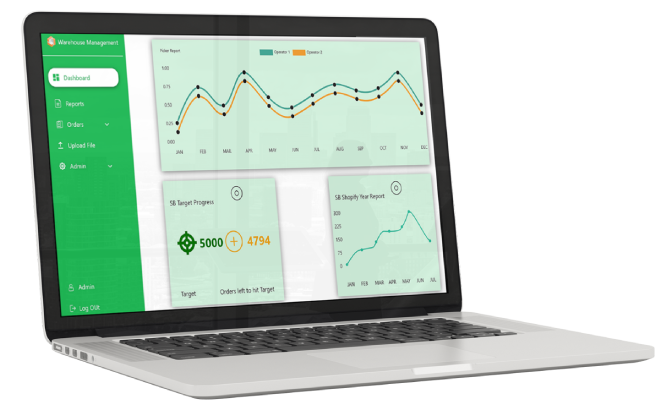 Stay on top of order fulfillment 
Access all of your fulfillment data from our online client portal available to Autofulfil clients free of charge. Available reports and order analytics dashboards include:
Products in stock
Tracking your inventory is a key component of eCommerce success. With real-time data of stock levels, you can plan focus production on the right items or make specific supplier orders to meet demand and never miss out on a sale.
Out of stock orders
Our system shows you which existing orders are waiting on products that are out of stock, enabling you to act fast and avoid delays for customers. You'll also be better placed to optimise inventory levels avoid the same happening again in future.
Order fulfillment
See how many customer orders have been fulfilled on a daily, weekly, monthly, or annual basis. This enables you to scale your operations accordingly to get more space or cut costs – not to mention assessing the benefits of our services.
Tracking & delivery details
Consumers demand fast shipping. With our system, you can keep them in the loop. It enables you to track the location as carriers ship orders along with expected delivery dates and times.
Orders scheduled for fulfillment
Get live data on inventory that's ready for fulfillment, giving you a better understanding of order processing timeframes as well as assurance that our team is on the job.
Returns processed
Read clear, concise reports on the number of returns processed and the issues associated with them. These insights can help you improve your products and minimise returns in future.
A clear overview of our fulfillment processes and performance
When you outsource fulfillment operations, you don't want to close your eyes and hope for the best. That makes management impossible for eCommerce stores, as you can't evaluate the value to your business or even check that that inventory has been correctly received.
We realise that our performance is a key component of the value we offer. That's why we provide clients with a wealth of data and analytics, reporting specifically on the success rate of our operations:
Delivery accuracy reporting 

We continually report on the percentage of

deliveries

successfully completed without any issues.

Inbound discrepancy report

 See an overview of

receiving

performance and inventory accuracy to identify any problems.

Pick performance accuracy

 Gain insights into the accuracy of fulfillment and the speed of operations with pick timing data for all sales.
From the very beginning, you'll get an account on our system that's integrated with your eCommerce store. Here, you can access all the data analytics and reports we create on demand.
Fulfillment analytics are available for all types of inventory, volumes of sales, and different types of eCommerce stores – and you'll never be limited to a certain amount of data or number of reports. So, you can continue to grow and change, safe in the knowledge that our analytics are there to support you.
Our client portal also has several convenient self-service features, so you don't have to wait for our team to make order modifications or cancel orders.
Ready to
grow?
Request a quote today and a fulfillment expert will contact you to answer your questions and provide you with a custom quote tailored to your unique business needs.