Shopify fulfillment

to grow and scale your brand

Powering more than a million stores in 175 countries, with more than 218 million customers, Shopify is one of the best platforms to launch and grow an eCommerce business.
But fulfilling your Shopify orders can be challenging – and every second spent on logistics takes precious time away from sales and marketing efforts to bring in more revenue and cash flow.
From inventory management, packaging, and shipping orders to managing customer enquiries and returns requests, fulfillment adds a layer of operational complexity that most Shopify stores aren't equipped to deal with efficiently as order volumes grow. But getting this side of the business right is critical to success, since customer satisfaction depends on fast and accurate order delivery.
Autofulfil offers free integration with Shopify for a seamless Shopify fulfillment service that is fully automated from your online store to our warehouse floor and, ultimately, to your customer's door.
Why use a Shopify fulfillment service?

Partnering with a fulfillment centre to manage orders received through your Shopify eCommerce store has a multitude of benefits. Here's what it can help you do:
Win back your time
Storing, picking, packing, and shipping orders is time-consuming to say the least. With fulfillment taken care of, you'll have time back to focus on what you do best. Think marketing, sales, and growing your business.
Cure your fulfillment headaches
Space, staff, software, and so much more – it can all become a bit too much, especially without the right experience and know-how. Shopify fulfillment services take the complexity away and give you simplicity.
Enjoy the freedom of scalability
The peaks and troughs of Shopify eCommerce can stifle businesses, who can't adapt to rising and falling order volumes. With the right fulfillment centre, you can scale up or down and only ever pay for what you need.
Delight your customers
Wave goodbye to delays, mistakes, and customer complaints. Orders will be fulfilled accurately and quickly to keep customers coming back for more.
Grow faster without limits
With your time back, customers kept happy, and scalable fulfillment services on your side, there's nothing stopping your Shopify business from growing. The sky is the limit.
Our Shopify
fulfillment services
Autofulfil provides the following Shopify fulfillment services:
How our
Shopify fulfillment works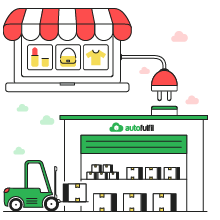 Shopify store integration
We integrate your Shopify store with our warehouse management system. That allows us to receive your orders instantly for prompt fulfillment without any effort required on your end.
Receiving stock
We stock your inventory in our fulfillment centre. Everything is checked into our system, so you have full visibility of your available stock. With 100,000 sq ft at your disposal, you won't have to worry about a lack of space either.
Keep selling on Shopify
You sell your products online to your customers. Order information comes through to us automatically, so you don't have to lift a finger.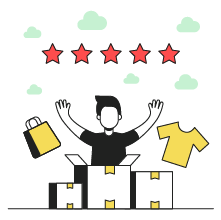 Order fulfillment
We pick, pack, and ship your online orders same-day. With the right staff and systems in place, we can fulfil your orders quickly and accurately, all year round.
Why choose Autofulfil

for Shopify fulfillment?

Our clients who use Shopify love our fulfillment services because, in addition to our free integration with Shopify, we are:
Quick to fulfill your orders
A same-day Shopify order fulfillment rate of 99.9% means you can keep up with customer expectations.
Reliable and accurate
With automated processes and highly trained staff, you'll benefit from 99.9% order accuracy.
Capable of high order volumes
We ship millions of items every year, so you'll have no problems increasing order volumes over time, or making the most of seasonal sales.
Flexible
Hands-on custom Shopify fulfillment services like kitting, assembly, and bespoke packaging will put a smile on your customers' faces.
Easy to work with
With a dedicated customer experience team and state-of-the-art client portal, you'll enjoy personal support and real-time tracking.
Affordable pricing
Competitive fulfillment service & shipping rates help you keep costs down – from storage to delivery.
Ready to
scale your Shopify store with Autofulfil?
Request a quote and our team will contact you to answer your questions and provide a custom proposal for your unique business needs. Get started in as little as one week!