Third Party Logistics (3PL)

Services in Ireland

Looking for 3PL services in Ireland? Abbreviated to 3PL, third-party logistics is the practice of outsourcing your logistics operations. This broad scope includes anything from supply chain and procurement to fulfillment and shipping – and it has a range of benefits too. By using a specialist third-party company, you get instant access to their expertise, experience, and resources.

That's where Autofulfil comes into play. We provide a range of third-party logistics services from our 100,000 square foot 3PL centre in Ireland to save you time, money, and a lot of stress. With 99.7% same-day fulfillment, next-day delivery in Ireland, and over 3 million items shipped daily, you can provide the best customer experience to your eCommerce customers every time and grow without limits.
Why use an Irish 3PL service provider?
Logistics is a vital part of any eCommerce operation. It's not just about getting your products to and from customers – but doing so fast, accurately, and at minimal cost. Not to mention the overall customer experience of delivery and returns. Below are some of the benefits of outsourcing eCommerce fulfillment to a 3PL service company in Ireland…
An established 3PL provider has the space, systems and human resources in place to cope with high order volumes, so there's nothing stopping you from scaling up.
Your team will save huge amounts of time on logistics, which can otherwise be spent on growing your business through sales, marketing, and product development.
You'll get instant access to the expertise and experience you need, without the time, money, and risk involved with recruiting or developing skills in-house.
With more storage space on your side, you're free to buy inventory in bulk to lower costs, reduce admin, and boost your profit margins.
There's no need for up-front investment in real estate, software, staff or equipment, so you can grow at your own pace – and only pay for what you need.
You can even benefit from lower shipping costs, negotiated by a 3PL with serious buying power. That's more profit per product to boost your bottom line.
Give your customers the best experience while reducing workload on your end too. Our Galway 3PL centre is fully equipped to receive and store your stock before picking, packing, and shipping it directly to customers on your behalf. Most importantly, we do so quickly, efficiently, and accurately.
Get the experience and expertise you need without the need to recruit or train staff, scale up or down whenever required, and save money on shipping from our established partnerships with top couriers – and significant buying power.
To keep things running smoothly and eliminate effort on your part, we offer free integration with a long list of leading eCommerce platforms – from Shopify, Magento, and WooCommerce to Amazon, eBay, and so many more.
The result? We receive your orders instantly, inventory and stock counts are managed automatically, and your customers can enjoy same-day shipping. Even better, integration and onboarding are typically completed within 3-5 business days, so you can hit the ground running.
Using a third-party for logistics doesn't mean less flexibility. Our team can assemble packages with multiple products or kit things together as marketable bundles. You can also add items to your orders, including instructions, gifts, free samples, and promotional material.
Why not put complementary items together as a one-off promotion or create permanent product bundles with special discounts for customers? Whatever ideas you have to boost sales or improve loyalty, Autofulfil will work with you to make them a reality.
Want to know how your orders are getting along? Of course you do! At Autofulfil, we give you full visibility with real-time information about stock levels, inventory requirements, shipped orders, and scheduled operations. You can also track orders, review deliveries, and view processed returns.
That's all available through user-friendly dashboards and clear, concise reports, so there's no need to spend your valuable time looking for information, chasing things up, or working things out.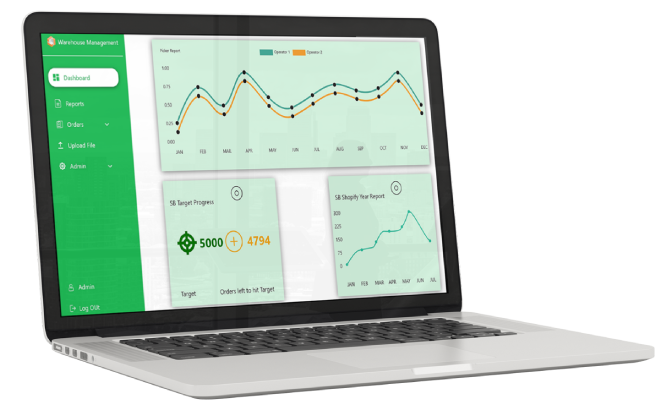 You can't cut corners with customer service in eCommerce. So we don't. Our clients have given us a rating of 9.1 out of 10 for customer service quality – and it's easy to see why.
Our English-speaking customer service team are always on hand to provide a prompt response with clear information. Whether it's a return, changed order, or shipping issue, we'll respond to your enquiry within one business day.
Subscription boxes can be hard to maintain on your own. But with demand for them growing fast, it's not something you want to miss out on. You already have to manage marketing, product selection, and so much more – why not let our 3PL fulfillment centre take some of the weight off your shoulders?
We can kit, assemble, and customise your subscription boxes, so you get recurring revenue without the operations headaches. Your customers will get their subscription box on time every time, thanks to same-day assembly and next-day delivery, ensuring that they stay happy and subscribed for longer.
Amazon is brimming with potential for online sellers. But fulfillment by Amazon (FBA) can be time-consuming with such strict receiving requirements. We'll take that off your plate with everything from inspections and kitting to polybagging, packaging, and labelling in line with Amazon's standards.
Or you can sidestep Amazon's centres completely, opting for fulfillment by merchant (FBM). In this case, we'll ship straight to your Amazon customers, giving you better prices with more flexibility and our top-rated customer service.
Business-to-business (B2B) eCommerce has a number of distinct hurdles. They range from shipping in bulk with mixed SKUs to custom labelling and packaging requirements. Thankfully, Autofulfil has the experience, expertise, and capabilities to help you surmount them.
Our dedicated 3PL B2B services tackle all of these issues, along with manual order processing through our client portal for orders that don't come through your eCommerce store.
In need of custom 3PL services in Ireland? From custom packaging to bespoke gifts, personalisation is the key to your customers' hearts. But you don't have to use up time internally to make it happen.
Simply tell us what you want and our team will get to work on your behalf. That could be thank you cards with handwritten messages, garment steaming for a luxury touch, or promotional inserts based on the products customers have ordered.
Ready to
grow?
Don't let time-consuming logistics tasks get in the way of eCommerce success. Autofulfil is on hand with a range of 3PL services to keep your business running smoothly and keep your customers happy. Request a quote today to see how we can help you grow and scale.