Third Party Logistics – 3PL

Warehouse In Ireland

Autofulfil is a versatile third-party logistics – 3PL warehouse in Ireland. Put simply, we give eCommerce businesses the option of outsourcing logistics to reduce costs, cut time-consumption, and improve the experience for their customers. How? It's simple. We specialise in logistics, so you don't have to. Our 100,000 sq ft warehouse fulfills more than 3 million items every day with a 99.8% fulfillment accuracy rate and 99.7% of orders fulfilled and shipped out the same day the orders are received.
When is a
3PL warehouse

beneficial?

All eCommerce operations involve logistics. That covers everything from sourcing products or raw materials to sending orders and processing returns. At first, that might seem like something you can handle on your own. But once things get busy, it can be hard to keep up with the speed and excellent service of your competitors while juggling the associated costs and time commitment – especially if your organisation doesn't have strong expertise in logistics.
A familiar starting point with in-house logistics
It makes sense for most eCommerce brands to process online orders themselves in the beginning. That could be at a brick-and-mortar shop, dedicated office space, or even in your own home. With order volumes small and inconsistent, it's both viable and cost-effective to fulfill our own online orders.
Growth can cause problems when fulfilling orders in-house
You'll undoubtedly want your online store to grow. When it does, logistics can get out of hand pretty quickly. To scale up, you'll need space, equipment, staff, expertise, and the capability to continue to meet your customers' delivery expectations and compete with your competitors.
Don't forget the time-consumption
Even if you can tick all of the boxes above, logistics still takes up a huge amount of time for you and your staff. That's time which could be spent on marketing, sales, or developing new and better products to keep your business ahead of the competition.
Scale easily with a 3PL warehouse partner
The alternative to the struggles above is to outsource your order fulfillment processes to an Irish 3PL company like Autofulfil. We already have the capacity, people, knowledge, and systems in place to deal with high volumes efficiently and accurately, so there's nothing stopping you scaling up your operation at a rapid pace.
But that's not all. Here are the
other benefits of a 3PL warehouse in Ireland
You can buy inventory in bulk to cut costs then store it in our warehouse.
There's no capital needed for software, equipment, staff, or the warehouse itself.
You'll get the right experience and skills in an instant without spending time and money upskilling your own team.
It will even save you money on shipping. Higher collective volumes equals more buying power, meaning 3PL warehouses can negotiate better prices per item shipped.
Here's how Autofulfil can help with third-party logistics in Ireland
You chill while we fulfill. Our 3PL warehouse in Ireland covers all of the bases when it comes to third-party logistics for online order fulfillment.
Send us your stock for short-term and long-term storage. Then let us pick, pack, and ship it to your customers. With a 99.8% accuracy rate and 99.7% same-day fulfillment, you can rely on us to get the job done well.
No need to send us your order details. We'll integrate our inventory management system with your eCommerce platform, so everything is quick and seamless. Available for WooCommerce, Shopify, eBay, Amazon, Skubana, Linnworks, and more.
Send exactly what you need with kitting and assembly at our 3PL warehouse. We'll bundle multiple products together before storing or shipping, including unboxing extras like instructions, samples, and gifts.
Get access to a client portal with real-time data on inventory, shipping, and returns. You'll know straight away when items are checked into our system, orders are fulfilled, or returns are processed – all from one user-friendly platform.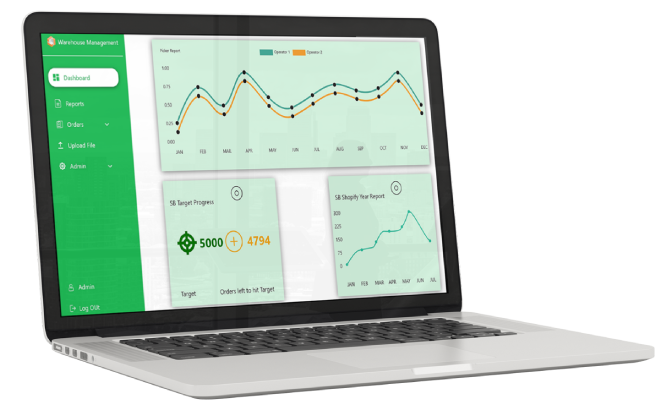 With an English-speaking team of customer service staff, we can respond to all support enquiries within one business day. We're rated 9.1 out of 10 for customer service quality by our clients. Never be left in the dark about orders, shipping, or returns.
Get on the subscription box bandwagon without the associated hassle. We can kit together custom subscription boxes from stock you send us, then ship them promptly to customers month-after-month to keep them coming back to you.
Let our team deal with Amazon's strict receiving requirements, ensuring your products are packaged and labelled to FBA standards. Or use our 3PL warehouse for Amazon fulfillment by merchant (FBM) for lower prices and increased flexibility when fulfilling your Amazon orders.
Need 3PL shipping for B2B orders? Autofulfil has the experience you need with systems in place for bulk orders, assorted SKU processing, and specific packaging or labelling requirements. We can also process orders manually if your B2B orders are made outside of your regular eCommerce platform.
On top of everything else, our 3PL warehouse staff are ready and waiting to help with bespoke requests, whether it's handwritten cards, custom gifts, or promotional material based on each customer's order – we'll get it sorted without any extra effort on your part.
Any questions about Autofulfil's
3PL warehouse in Ireland?
Send us your details and we'll be in touch to talk through your 3PL requirements. Our team can provide a bespoke quote for your unique business needs without any obligation whatsoever.